SMARTPASS EVO 4.0 the brand new product made by Tamarri! The new Tamarri s.r.l online platform for complete vehicle control. Directly from Could platform. Innovative, handy, safe, 4.0 Industry certified.

4.0 INDUSTRY: CONTEXT
4.0 industry has been for several years the core of the economic transition in Italy and in the world. Industries are more and more digital and connected: the fourth industrial revolution has started in Italy, the second manufacturer country in Europe.
In a modern and connected context, giving a concrete answer about digitalisation in all the industrial sectors is essential. In particular in the logistics one, the material handling and the vehicles control in the most important production chains.
Thanks to the government plan ad hoc and following evolutions and revisions, we created the recent "4.0 Enterprise plan Plus" which provides the so-called IPer and Super Ammortamento and other technical and financial advantages. Essential but not unique lever in order to introduce a new standard of modernisation in the industrial environment.
It is a complete platform for monitoring / management of handling vehicles (in particular forklifts, transpallets, earth-moving, agricultural and other machinery) consisting of two main elements:
An Hardware device that has to be installed on every single vehicle to be managed (SMART readr Evo 4.0)
A software platform in Cloud aimed to the complete data management: Logs and alerts sent and received by the device (SmartPass cloud platform)
The SMARTPASS Evo 4.0 system is certified by an external body "ECO Certificazioni S.p.A." and falls within the "devices, instrumentation and intelligent components for integration, sensorization and / or interconnection and automatic control of processes also used in the modernization or revamping of existing production systems".
SMARTPASS EVO 4.0: CLOUD CONTROL OF THE VEHICLE
Born from careful research and collaboration with digital realities of our territory, SMARTPASS EVO 4.0 is the new Tamarri S.r.l platform aimed to the complete control of the vehicle directly from a Cloud platform. Innovative, practical, safe and Industry 4.0 certified.
A platform that aims to improve the safety of the logistics sector on handling vehicles, from the warehouse to the construction site, SMARTPASS allows the recognition of the driver, the location of a pedestrian or other moving vehicle near the forklift , the slowing of the vehicle within specific areas and the automatic opening of mechanical gates.
Furthermore, thanks to the real-time log system, SMARTPASS is able to record all events, transforming them into alerts that can be easily consulted through the dedicated web portal SMARTPASS Cloud Service.
SMARTPASS EVO 4.0: Vehicle access and control thanks to the Could platform
SMARTPASS EVO 4.0 together with SMARTPASS Cloud Service, allows you to enable a vehicle with the simple use of the company badge! It can be adapted to any industrial vehicle: from forklift trucks to agricultural and earth-moving vehicles. Furthermore, with SMARTPASS EVO 4.0 access and control of the vehicle have never been so simple, all thanks to the Cloud platform.
With SMARTPASS EVO 4.0, it is possible to control access to any vehicle and associate drivers with specific vehicles. Thanks to its versatility, the device allows the use of two technologies: RFID for the company badge recognition or BLE, through wearable devices (pins, watches, etc.) with Bluetooth 5.0 technology.
This flexibility allows each company to choose the best solution to be adopted within its own departments, both logistics and production. Thanks to the customization functions it is possible to enable operators to specific vehicles. Furthermore, the sophisticated log system records all the events that can be consulted through the SMARTPASS Cloud Service portal.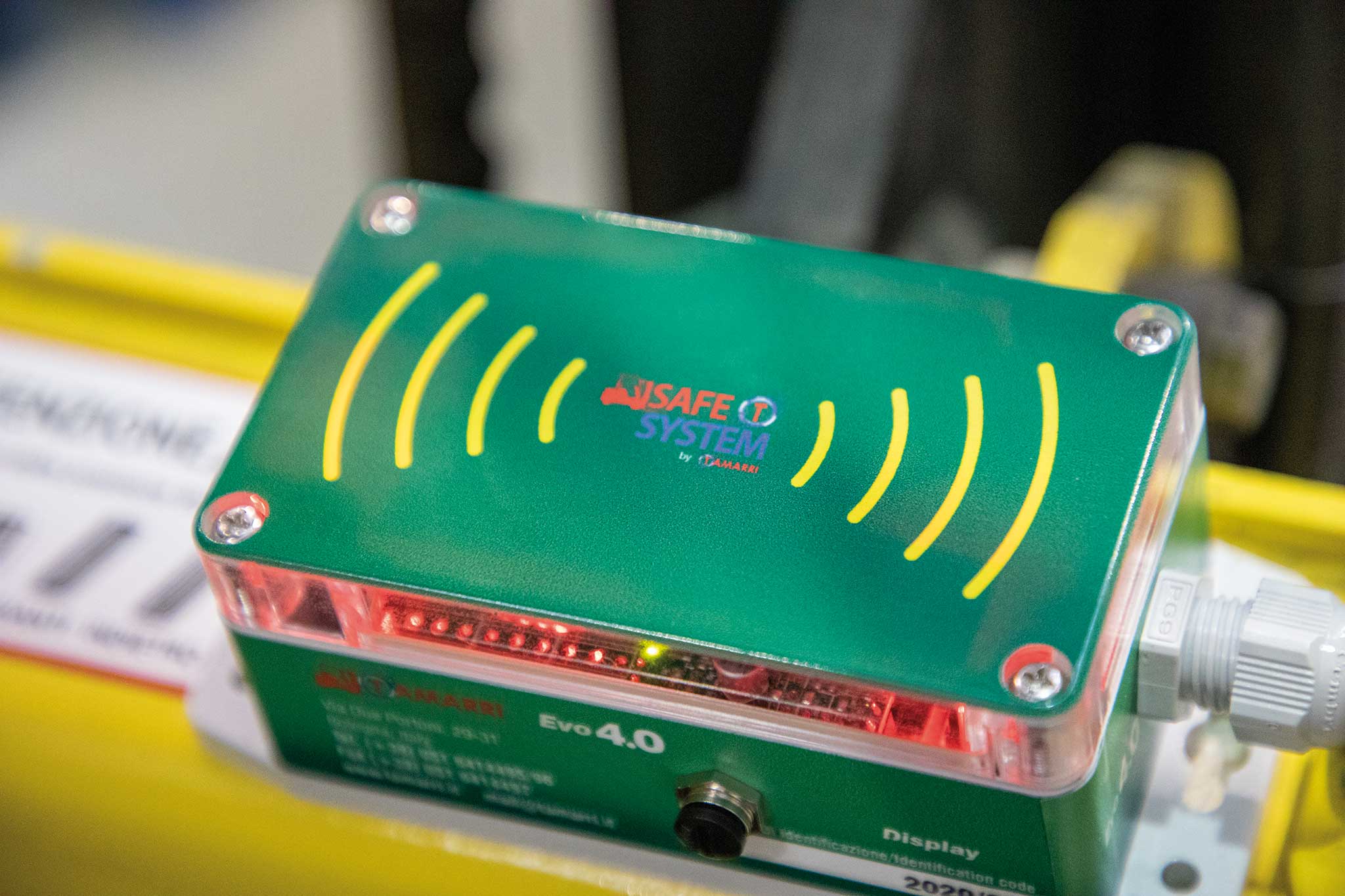 Having complete control of your fleet means, first of all, knowing who works on a particular vehicle, how and when it is used and how it is driven.
Knowing the real use of company logistic assets is essential. Drive only those who are authorized to do so.
SMARTPASS Evo 4.0: Anti Collision system
In a warehouse it is normal for some areas to be less visible than others. Large racks, machinery and storage can significantly obstruct vision.
With the SMARTPASS EVO 4.0 platform. pedestrians and vehicles are always safe.
In fact, with SMARTPASS EVO 4.0, it is possible to check for the presence of pedestrians or vehicles in proximity to the maneuvering area.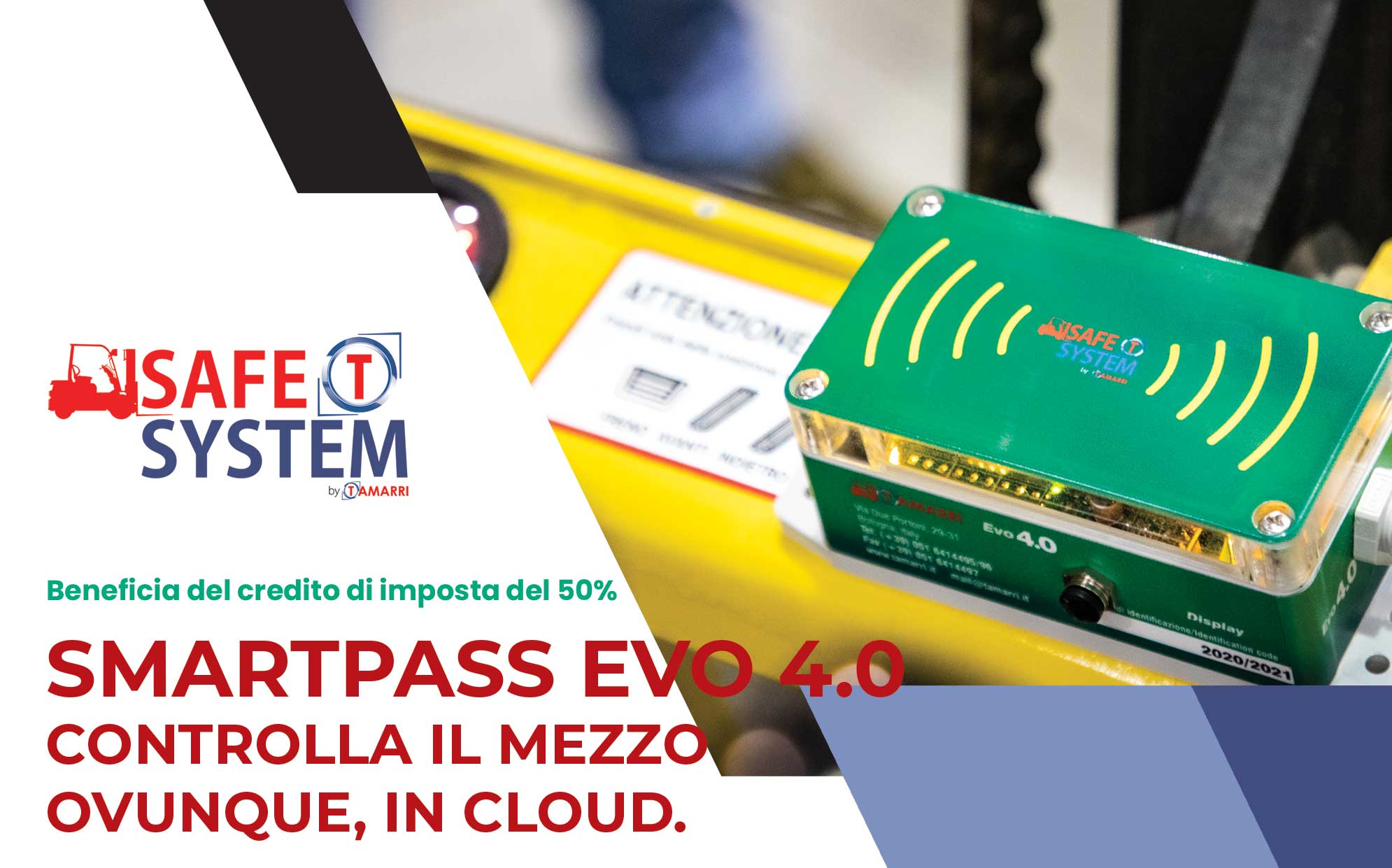 All parameters, such as threshold, distances and much more, are fully customizable. Furthermore, a sophisticated tracking and logging system records all the events that can be consulted through the online portal.
Digital checklist for careful control of the vehicle
After a careful analysis and study phases with companies in the sector, the digital check list function was implemented and created in order to make operators responsible, so that a careful check of the vehicle is carried out before its use. The checklists are completely customizable and can be used both on all vehicles and only on some.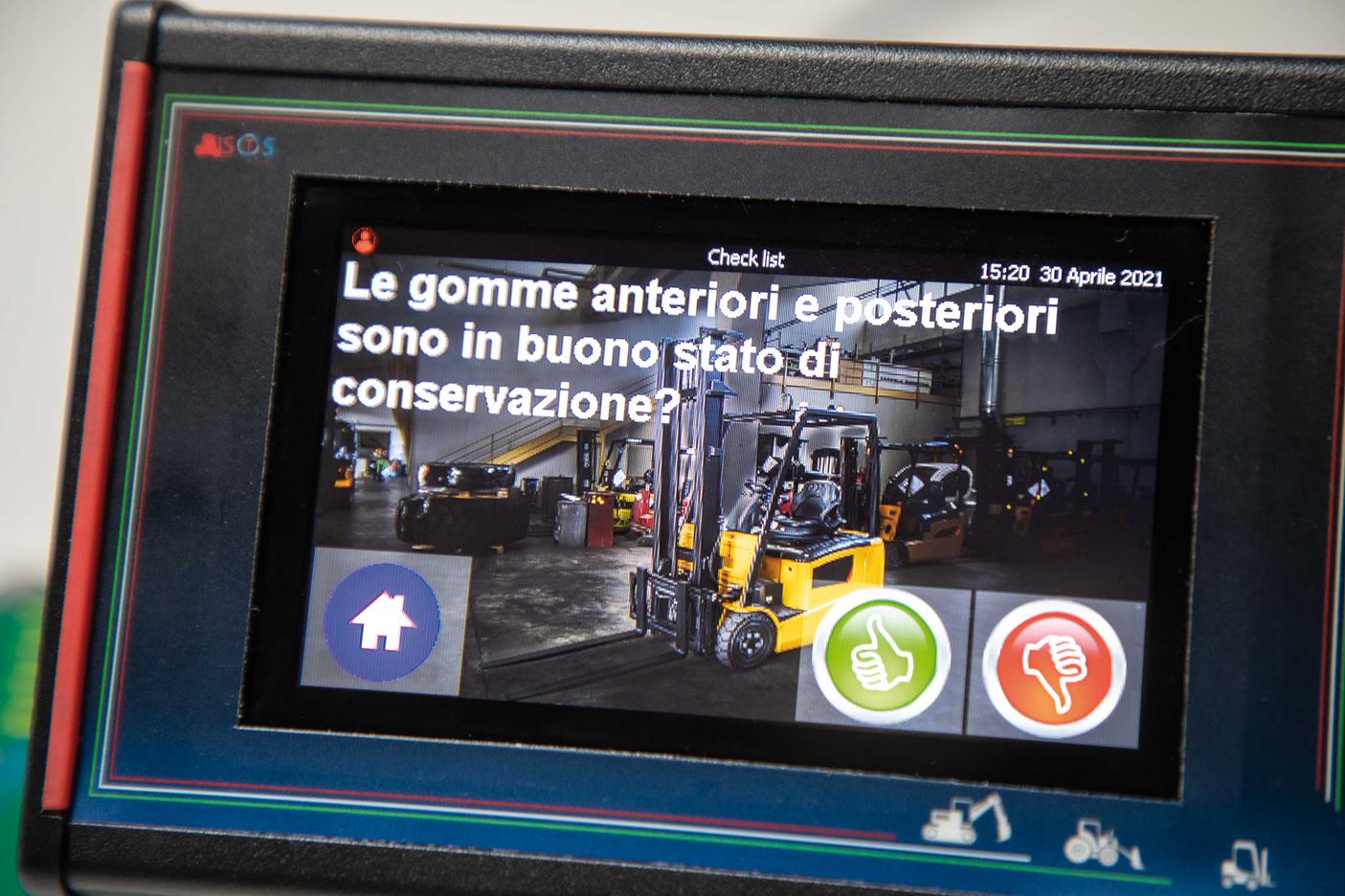 Generally checks are required on the most sensitive parts in terms of safety such as: chains, forks, acoustic and light signals, tires, battery status. In many European countries this procedure is mandatory. In Italy, many companies adopt paper forms that are filled in by operators on a daily basis.
Thanks to the digital checklists of SMARTPASS EVO 4.0, it will be possible to keep track of all the checklists and their responses. The drafting of the daily check list of forklifts must be a good practice for every forklift driver and must be strongly supported by every company manager who uses forklifts in his production processes.
That is why Tamarri s.r.l integrated this function
A simple and intuitive interface for customized job missions.
Attraverso un'interfaccia semplice ed intuitiva, la piattaforma SMARTPASS EVO 4.0 permette al comparto logistico di inviare missioni personalizzate all'intera flotta presente.

Thanks to a simple and intuitive interface, the SMARTPASS EVO 4.0 platform allows the logistics department to send customized missions to the entire fleet present.
Furthermore, with the SMARTPASS CONNECTOR it is possible to process the data and inputs generated by the WMS systems – Warehouse Management System – already in use.
This approach allows you to maximize the level of customization, so as to act on the sequence of execution of the missions and assign resources in an optimal way to make processes more efficient, rationalize and optimize costs.
Thanks to the Cloud platform you will be able to manage all your vehicles independently, verifying all data in real time.
Finally, thanks to the numerous accessories, you can extend the functions of SMARTPASS EVO 4.0 according to operational needs.
A highly technological product made with the highest standards and the best materials, SMARTPASS EVO 4.0 has been designed to work even in the most demanding industrial departments.
Essential for all workshops that deal with maintenance and vehicle rental services, but also perfect for all high-density warehouses and logistics departments. SMARTPASS EVO 4.0 is the ideal platform to have complete control of handling vehicles.
What is more, with SMARTPASS Cloud Service, you can count on the complete management of the SMARTPASS EVO 4.0 system in the cloud!

Special functions and geolocation for full control of the vehicles
Having full control of your vehicles is a fundamental aspect for any company that manages one or more warehouses: internal logistics, movements, alarms.
Thanks to SMARTPASS EVO 4.0 it is now possible! All with SMARTPASS Cloud Service, the revolutionary Cloud platform by Tamarri.
With SMARTPASS EVO 4.0 and SMARTPASS Cloud Service, the platform that improves safety in the logistics sector on handling vehicles, it is possible to slow down the vehicle within specific and particularly delicate areas, and to open any unattended mechanical gate.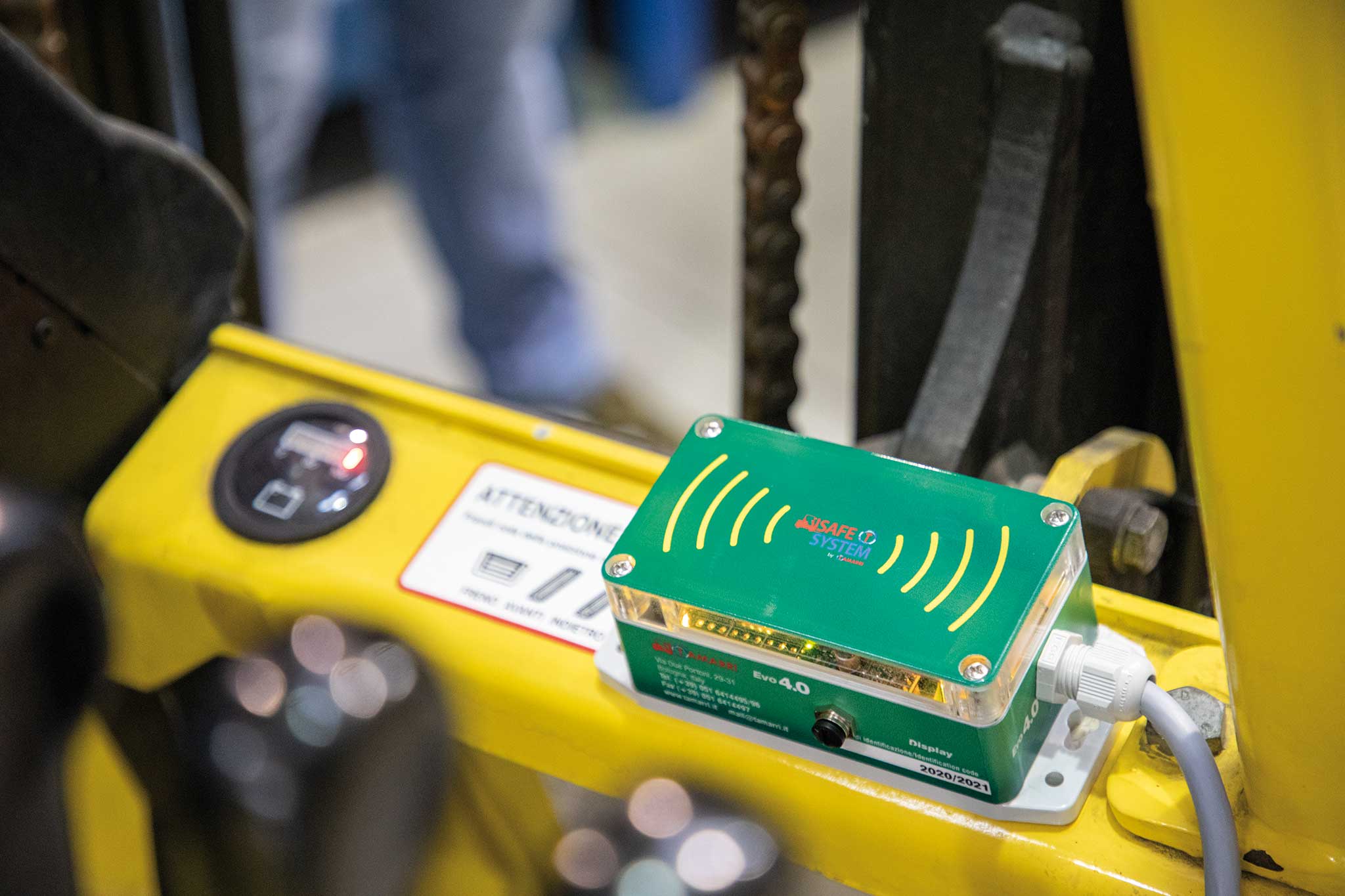 In addition, by automating the opening of the gates, the operator will no longer need to get out of the vehicle for passing operations, thus increasing productivity and safety.
Tamarri S.r.l., with SMARTPASS EVO 4.0, has thought of everything: practicality and safety in a single solution.
Download the  SMARTPASS EVO 4.0 brochure